Medical Data Typing Services
Improve Your Healthcare Processes by Availing the Medical Data Typing Services.
Outsourcing Typing Services offers the clients belonging to the medical domains with timely and accurate medical data typing services, so as to effectively reduce their workloads and streamline their business processes. With the flow of digitization hitting each and every industry, the medical and healthcare industry is no exception.
Physicians, hospitals, clinics, and laboratories are now opting for the electronic medical records, by the help of which the details of the patients can efficiently be stored in the electronic databases in a safe and secure manner. We help out the medical professionals by taking up all of their medical data typing tasks, so that they can get a substantial amount of time to offer quality healthcare services and facilities to their patients.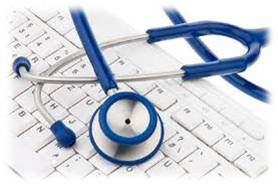 Why choose us for Medical Data Typing Services?
HIPAA Compliant Service
Higher Accuracy Rate
Quick Turnaround Times
Strict Quality Check by Expert Professionals
Better Project Visibility
Flexible Pricing Schemes of the Projects
Whether you are an individual medical practitioner, a group of doctors, a diagnostic center, hospital or a pharmaceutical agency, we can cater to all your medical data typing needs within a fast interval of time. We can handle the medical data related to any of the departments such as Cardiology, Gastroenterology, Neurology, Ophthalmology, Orthopaedics, Oncology, Urology, Paediatrics and General Surgery etc.
We Type Medical Records Such as:
Records of Patients
Details of Various Diagnostic Procedures
Records of Medical Claims
Data Typing of Medical Bills
Data Typing of Revenue Cycle Management Reports
Medical Insurance Reports Typing
At Outsourcing Typing Services, we have a specialized team of typists especially to handle the medical data typing projects. All the team members are knowledgeable of the different medical terminologies and provide the clients with accurately typed documents without any type of discrepancies.
Clients can rely upon Outsourcing Typing Services for their diverse medical data typing needs. We keep track of all the HIPAA guidelines, which may at times be required while performing the typing tasks. We also offer the clients with the utmost flexibility and security while transferring the completed records. You can get access to your completed medical records through our fully secured file transfer protocols in any of your desired file formats.
Contact us to find more about our medical data typing services.