Legal Documents Typing
Legal data typing services are needed in typing all the routine correspondence, notes, memorandums, minutes of meetings and other data related with cases. These services are specially needed for Lawyers, Judges, Court Clerks and Attorneys.
Outsourcing Typing Services is one of the most reliable and accurate service providers in the field of legal data typing. We have immense experience in legal areas including litigation, tax & trust and probate, medical negligence/personal injury, debt collection, matrimonial etc.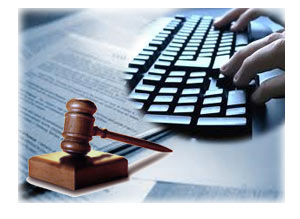 Process of Legal Data Typing Services
Legal data typing services needs high attention, proficiency and deep understanding of the domain's terminology because if a single term is misunderstood then the whole meaning changes. One should have a proficiency in handling legal terms and also be well qualified. These are really tedious and very complex tasks. It is very important that the security and confidentiality of the data remains at a secure place. The files could be in any other format. The document is returned the same day or the very next day on your own templates.
Services from Outsourcing Typing Services
Since years of experience in this field the professionals of our firm have been delivering exceptional quality and accurate services in legal data typing. We put full efforts to type each single word with 100% accuracy. This type of dedication and extensive expertise in this field make us capable to handle diverse range of legal data typing services despite of geographical boundaries.
One can be assured of accurate and quality transcripts from us as we pay attention to detail. Every file that gets transcribed is checked and corrected by a qualified and experienced quality controller. To give error free services our company utilizes latest technologies and updated software's that enable perfect and accurate services. Since the legal field is quite risky all work is treated as confidential. Special measures are taken to maintain the security and reliability of the data.
Some of The Salient Features Of Our Services Are:
Comprehensive, competent and competitive
Cost-effective ranges
Maximum accuracy with utmost reliability
Optimum security and confidentiality
Flexibility and customized services
Highly efficient professionals
Contact us for more information about our legal document typing services.